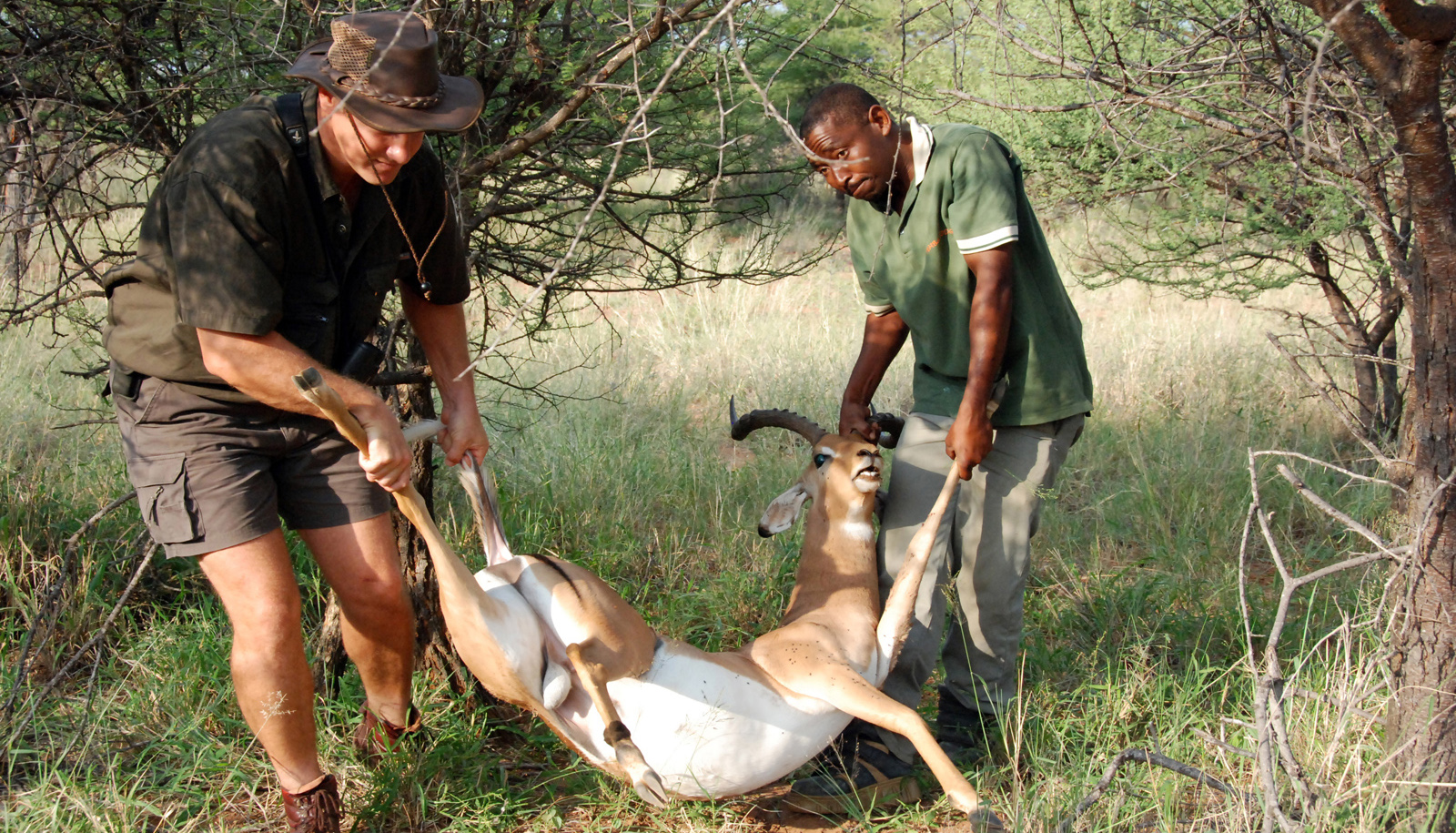 There is no hunting at Temba Safari, because we wish to maintain the natural instincts of the animals. But there are several good places for hunting nearby, where you can go hunting with riffle and bow.
Leading the hunt is primarily white hunt leaders by pürsch on foot and with cross-country cars.
The hunt is carried out in big game hunting farms.
Quote:
"It is an experience in itself just to see how the trackers can follow certain tracks among the many and find a specific animal. It is quite eminent how these people who live here, knows how to manage in the wild."
Many options
A typical hunting day begins between 05.00 and 06.00, and if you are going hunting with bow, it is one hour earlier. We will have a quick cup of coffee and some bread, whereafter we drive to the specific hunting area.
The hunting areas are situated near the lodge so we go back around 11.30 to have brunch.
Between 13.00 and 14.00 we go again. The exact time depends on the heat, but when we are there we will hunt until sunset between 18.00 and 19.00.
When the hunt is over, we return to the lodge, for a shower, sundowner and snack and a good time.
Some choose to go all days, others – including those how have their family with them – choose to go on one or two trips. It is totally up to you, just as you can choose between hunting alone or together with someone.
Package deal on riffle hunt in South Africa
Price includes
Flight tickets and taxes
Personal support when arriving and departing
Stay of 8 nights in shared double room with full board at the luxury lodge (incl. drinks served during meals)
5 days of hunting
Transportation during the hunt plus transfer
Hunt leading 2:1
Permission to shoot according the list below of trophy fees
For planning purposes we need to know what animals you wish to hunt already when booking the trip
Not included in the price:
Tips
Preservation and shipping of trophies
Alcohol during the stay
Travel insurance
Trophy fees 2023:

| | | | |
| --- | --- | --- | --- |
| Baboon | DKK 2.500 | Klipspringer | DKK 7.500 |
| Blesbuck | DKK 4.500 | Kudu | DKK 14.000 |
| Blesbuck (white) | DKK 6.000 | Mountain Reedbuck | DKK 7.000 |
| Blue Wildebeest | DKK 6.500 | Nyala | DKK 12.000 |
| Blue Wildebeest Golden | DKK 12.000 | Oryx | DKK 8.000 |
| Bushbuck | DKK 8.000 | Ostrich | DKK 4.000 |
| Bushpig | DKK 4.000 | Red Hartebeest | DKK 6.500 |
| Caracal | DKK 8.000 | Roan Antilope | DKK 30.000 |
| Duiker | DKK 3.500 | Sabelantilope | DKK 25.000 |
| Eland | DKK 15.000 | Steinbuck | DKK 3.500 |
| Giraf | DKK 15.000 | Warthog | DKK 2.500 |
| Impala | DKK 3.500 | Waterbuck | DKK 14.000 |
| Impala Black | DKK 14.000 | Zebra | DKK 7.500 |
| Jackal | DKK 2.000 | | |
Trophy fees include skinning and field preservation and delivery to taxidermist / shipping agent
Further information
If you wish to have more information or want to book a hunting trip:
Contact Temba Safari
Michael Kousted on +45 4042 4242
E-mail mk@temba.dk
Did you know …
That South Africa is the only country where it is allowed to hunt white rhinos?
That the Big Five is only a few hours' drive away
That it is hunting season all year around?
That we often get visits from hunters who bring their family?
That if you, for instance, bring down a kudu at the beginning of your stay you can have it served for dinner at the end of your holiday?