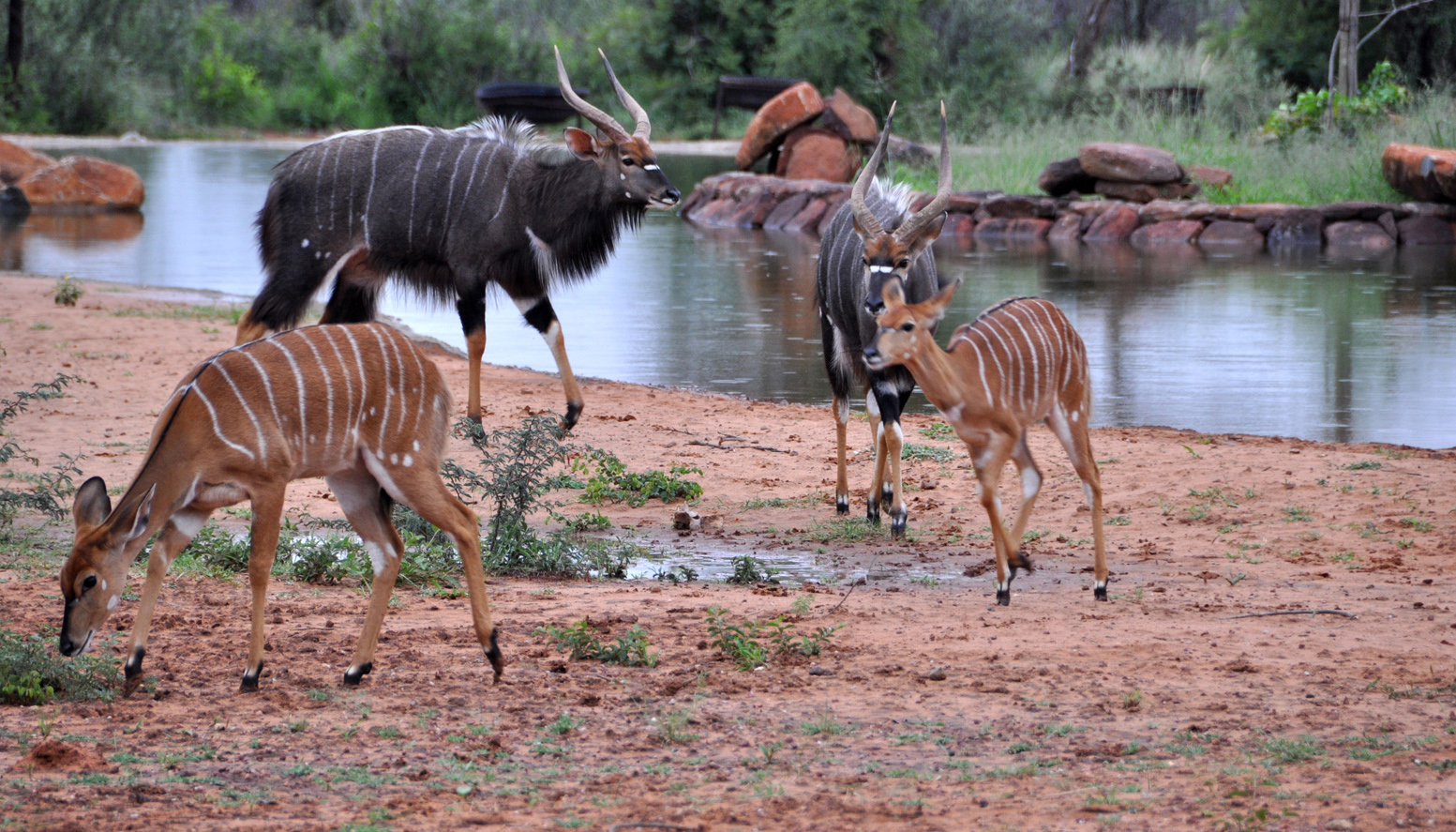 Area
1,219,192 km2
Location
South Africa consists of 9 provinces and Temba Safari is situated in the Limpopo province about 850 m above sea level.
Capital
Pretoria, Bloemfontein and Cape Town.
Population
59,31 millions divided between 77% blacks and 10 % whites, 8 % colored and 2,5 % Indians/asian.
Climate
Subtropical.
In South Africa it is summer from November until March and winter from June until August.
The area around Cape Town benefits from a Mediterranean climate, while the temperature in the north can reach as high as 40 degrees.
In the area around Temba Safari it can get really hot, but because the humidity is quite low it feels comfortable. It is still a good idea not to go out in the middle of the day.
The sky is usually blue and when it rains, it pours for an hour or two and after that the sky is blue again – and the air nice and fresh.
| | | | | | | | | | | | | |
| --- | --- | --- | --- | --- | --- | --- | --- | --- | --- | --- | --- | --- |
| Climate table | Jan | Feb | Mar | Apr | May | Jun | Jul | Aug | Sep | Oct | Nov | Dec |
| Rain (mm) | 80 | 50 | 50 | | | 10 | 10 | | | 50 | 80 | 80 |
| Wet days | 5 | 3 | 3 | | | | | | | 3 | 5 | 5 |
| Temperature, day | 32 | 30 | 27 | 27 | 25 | 23 | 23 | 25 | 27 | 27 | 30 | 32 |
| Temperature, night | 20 | 20 | 18 | 15 | 12 | 8 | 8 | 12 | 15 | 18 | 20 | 20 |
| Average sunlight hours | 403 | 364 | 403 | 360 | 372 | 330 | 341 | 372 | 360 | 403 | 390 | 403 |
The African nature
Africa is Africa so when we write that you can move around freely at Temba Safari it means move around freely as you do in Africa – and not as you would do it in Denmark. In Africa you should know for instance that snakes can be hiding in thicket and bushes. And even though Temba Safari is fenced it is possible that a cheetah gets in at night, but it will be very shy and leave when it discovers that it is near humans.
"When it is summer in Denmark it is winter in South Africa. But at Temba even the winter is mild, almost as a Danish summer. The high season is from September to October, but the weather is so nice that you can come all year. The area is privileged with sun and a blue sky all year. And the animals are always here."
Visa
For Danish citizens: Visa with duration of 90 days is obtained at arrival. This is valid for tourist as well as business tours when producing valid return ticket and economic resources. NB There has to be at least to blank pages in your passport for the purpose. Besides that the passport has to be valid for at least six months besides the stay.
For others: Countries have different rules so check with your embassy.
Religion
Christianity, Islam, Hinduism, Judaism plus a whole range of tribal religions.
Language
English, Afrikaans, isiNdebele, isiXhosa, isiZulu, Sepedi, Sesotho, Setswana, Siswati, Tshivenda and Xitsonga.
English is the native language of most South Africans.
Currency
Zouth African Rand (ZAR), daily speaking Rand.
100 ZAR correspond roughly with 45 DKK. It is recommended always to carry smaller amounts of cash, besides that credit cards and VISA, Diners and Mastercard can generally speaking be used all over the country – also at Temba Safari.
Time difference
When it is summer time in Denmark there is no time difference. During standard time South Africa is one hour ahead of Danish time.
Local specialties
In South Africa you eat well and a lot! In the area around Temba Safari there are lots of possibilities to try out the local specialties. "Pap" is a solid porridge made from maize flour eaten morning and night, "biltong" is dried and salted meat made of everything from antelope to ostrich, and "chili bites" is a snack made from dried meat with chili. Furthermore the many exotic fruits are highly recommendable as for instance papaya and mango which has a completely different taste than the imported ones we are used to.
Our water
It is safe to drink the water at Temba Safari Lodge because it is the purest ground water from our own well and there are no risks for diseases.
Tip
It is a good idea to tip in South Africa because they are not always automatically put on the bill.
Tip at Temba Safari
The wages in South Africa are so low that the tip is necessary in order to provide for yourself and your family. We will therefore be grateful if you tip Estie before you leave Temba Safari, whereafter he will make sure that everyone at the lodge will receive their share. It is not unusual that our guests gives ZAR 1,000-2,000, if they have been pleased with the stay.
Tip when hunting
It is standard to give trackers or skinners an extra tip, if they did good, whether it is during the hunt or if they have done a good job with the trophy afterwards. Extra tip could be a pack of cigarettes or ZAR 5-20.
The professional hunters (PH) are normally tipped as well in the end of the week and the amount depends on how satisfied you have been, but it will typically be around ZAR 800-1,000.
Vaccinations
Because Temba Safari is situated in an area free of malaria the vaccinations are limited to:
Difteri-tetanus (tetanus shot)
Hepatitis A
Though we always recommend that you contact your own doctor in order to have the correct vaccinations plus advice and guidance.
Internet
There is internet for free use one hour a day. The internet is via satellite and is not for downloading movies etc., but for messages, emails and facebook etc. There is internet around the clock in the office and it can be accessed if required by appointment with the staff.