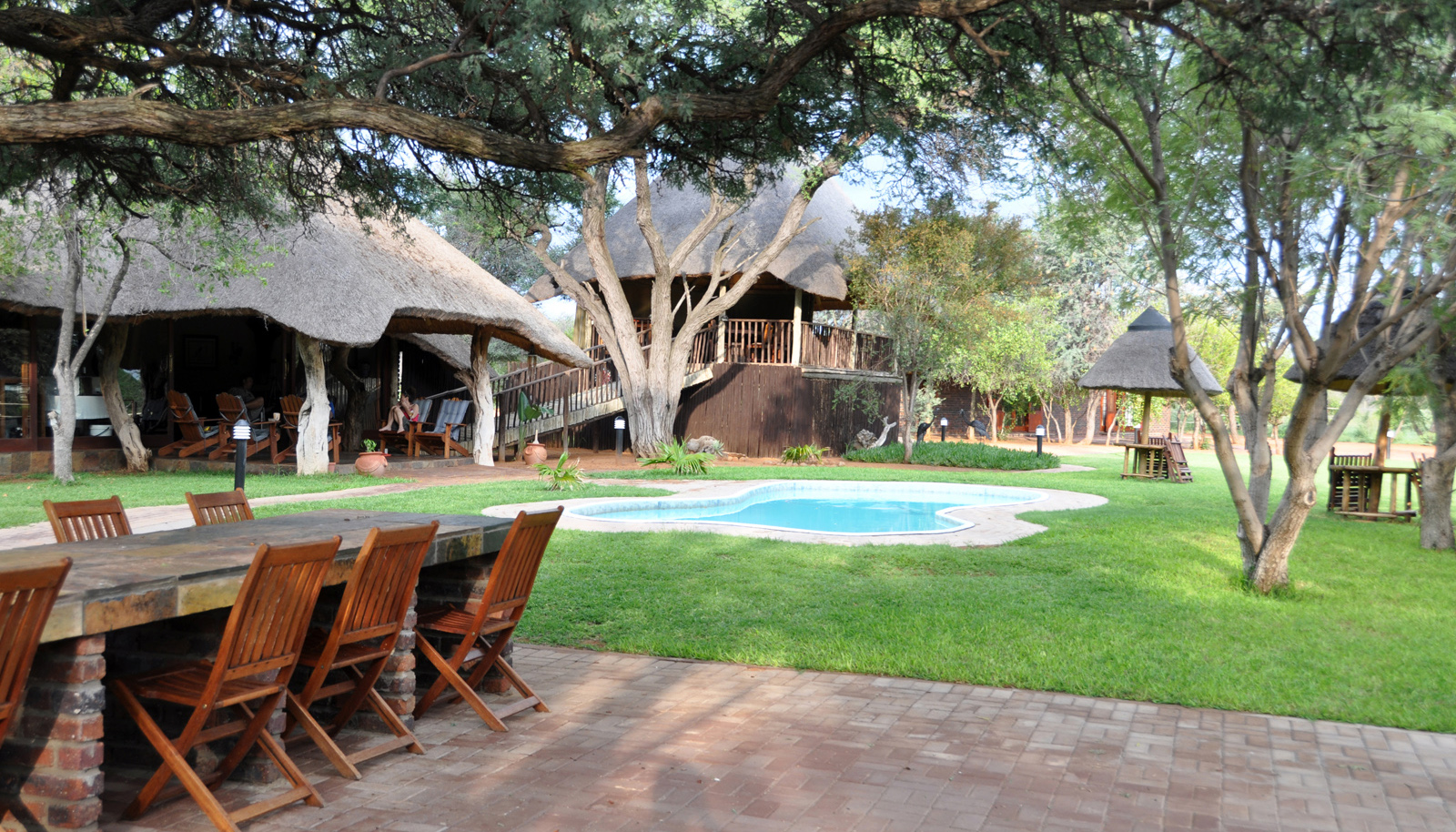 I had the best trip of my life
The slogan Home Away from Home is really true. Walking around at Temba with the feeling that Temba was mine for the time is absolutely amazing. Francois, Barry and the rest of the staff welcomes you with open arms, a smile on their face and they are alway ready to assist and help. The ATV's was used a lot which our boys (3-6-13 years) thought was great. The old jeep was also very usefull and we had a great time driving around in it all of us. I could keep on, because it has truly been an extraordinary experience and I would love to come back to Temba. If I should try and find anything negative it might be that it can be a challenge with the food, when having kids along. I absolutely loved the food, but some times it would have been nice just to have a potato and a piece of meat without spices for the kids. I guess that was it.
Betina Jensen, January 2014
We had an great vacation at Temba
Great experience, nice room, the amazing view point and the beautiful lake where the animals would come for water. The staff was very welcoming. We started each day with a big brunch at the lodge and one day in the bush with champagne. Dinner was eaten every day in the "boma" because the weather was amazing all days. ATVs was used and we drove the jeep as well, so nice that we could move around freely in the area. Francois og Barry are great people that really cares about their job, huge involvement. Temba can be very proud of those two. We can only recommend Temba to every one.
Jan og Gitte Jensen, November 2013
Five stars is not enough
Let me say right away. It was an amazing, huge and unforgetable experience that you and your staff gave our family this fall. All 17 guests was more than satisfied during their stay. Right now I am editing my film shootings from the stay and I keep getting touched by the way we were welcomed and the experiences and luxury characterizing our stay. Us to old people stayed at a similar five-star lodge a few years back with lots of luxury. Taking our children this time we chose Temba for the cheaper price expecting less service, but we were very surprised. Every thing was so much better. Amazing sourroundings with the lovely lake, the view point, the nice rooms, two swimming pools, the amazing food – from breakfast in the bush the first day to dinner at the lodge and in the bush with champagne and the nice local red wine. Our young people loved the ATVs and the fact that they could drive around in the area on their own. They would come back and say: "you know grandpa, all of a sudden there was a giraf. Then there was a turte on the road and it was three times bigger that the one at home." If we were to give stars for the stay, five would be to little. Francois og Barry was so welcoming and we really felt their wish to make our stay special. The rest of the staff was alway smiling, nice and helpful.
Karen and Peter Konge, three big kids and 12 grandchildren, wife, husband and patrners, October 2013
An unforgettable stay
We had a great stay that we will never forget. You have amazing staff at Temba, the food was delicious, varied, well prepared and tasty – I have rarely seen my 18-year old eat that much.
We has our laundry done and when it came back it was nicer than when we bought it. Every one was very welcoming, smiling and nice. You feel very welcome and as part of the family. Barry was a the entertainer at dinner with all his good stories and helpful with every thing. Really good at making it a good stay, there were no doubt about our trips, dinner time, rules for using the vehicles a.s.o. We have used the ATVs and Jeep a lot, what a confidence to show your guests! Francois is amazing giving out his knowledge about the animals, the area and the country. My son was amazed. Francois' service, comfortable company, care for the guests, personalty and great commitment is priceless (appreciate him). He made sure we got on our way home, it was very nice that he followed us all week. I was surprised it could be so cold in South Africa, so a little info on the webpage about bringing warm clothes would be nice. Nice that there were alway blankets in the jeep. Thank you very much and I would recommend Temba to everyone.
Simon and Sus, Summer 2013
Amazing hunting experience in South Africa
We took home some really nice trophies from Temba, Our PH (private hunter) Zander has been amazing and we can really recommend him to any one. We got a friend for life. So a big thanks to Zander. We enjoyed every second on the hunt. Remember stay in line and keep your head down. Yes! We will always remember you, and we will keep you in our hearts forever. We are looking forward to see you soon on hunting.
Best wishes from your gate friend and the lion
Kim & Helene, August 2013
Great do it yourselves safari
Please do continue with your current concept of "do it yourselves" safari.This is truly the special things about Temba – being able to explore the South African nature on your own, with competent assistance from all the Temba staff. Having vehicles for your own use and a "safe" way to see the animals close up is a wonderful experience.
Thank you for a fantastic week!
Best wishes from Emil, Helle & Per, August 2013
Memorable stay
Thank you for an amazing week here at the lodge. We have enjoyed our stay here, and all the trips will stay in our memory forever. We hope the best for all of you here at the lodge in the future, and we will go home and recommend this place to our friends.
Thank you for everything familien Simonsen, May 3013
Dear Temba and staff
It has been a great week with lot of enjoy on the farm. The hunters have got a lot of nice trophies. The food was excellent and the staff had done a really great job. The best wishes from Trine, Kenneth, Jacob, Niels, Louise, Michael and Hanne (and please remember always have that many good looking PH's.
Louise and Trine, March 2013
Exciting experiences
We thank you for many wonderful and exciting experiences. We loved driving around, trying to spot all your different beautiful animals. Francois was a brilliant guide, who told us lots of interesting things and took us out on many great gamedrives. We have really enjoyed the freedom to explore everything by ourselves. Also a big thanks to the great staff for making our stay so pleasant.
Kind regards Jonathan & Camilla, March 2013
Great vegetarian meals too
Dear Temba Thank you for a fantastic week here on Temba. We enjoyed your company and very fine service. The vegetarian meals were very delicious (an desserts!!) It is nice to stay in the middle of all your beautiful animals.
Kind regards Susanne, Ole, Jens & Lone, March 2013
Good company, good food, good humor and lively
Thank you, Francois and Barry, for your enthusiasm and deep insight into the fauna and wild life of South Africa. We have enjoyed your sense of humor and inspiring stories, your positive spirit and hospitality. Great thanks to the complete staff for making our stay such an enjoyable experience. Charlotte, Torben, Jan og Susanne To all of you at Temba Thank you for a lovely, great and funny vacation. You are fantastic, all staff. Good company, good food, good humor and lively. We have enjoyed every minut. Thank you for all the stories on the gamedrives – to share knowledge.
From Skanderborg og Aarhus,  Jens & Lone og Mette & Bjarne, October 2013
Wonderful trip to the "wild Africa"
We are at the end of a wonderful holiday in South Africa – our first. Thank you staff of Temba. And thank you Francois for the trip to Limpopo River. Wonderful trip to the "wild Africa". Now we are looking forward to the Pilanesberg trip on the way back to the airport. The weather could have been nicer, I didn't bring enough warm clothes. We would like to be back another time, when South Africa is a little more green. We will definitely recommend a stay at Temba to family and friends.
Sincerely Birger & Birgit, Summer 2012
Fantastic presentation of your wonderful lodge and surroundings
We have enjoyed our stay her down under, much more than we ever dreamt of. Actually we nearly have to be on recreation, when home again. The impressions were in the big scale. This part of South Africa is marvelous. We don't have to mention, where we have been, but join your previous guests warm and lovely statements of you and your staffs effort to show us around and give us full service in food and accommodation. Lots of love the Barry, Francois and the most kindly staff we have ever met.
Trold + Frank, Østerbro, Copenhagen, March 2012
Nice hunt and trophies
Thank you for making our first stay in South Africa memorable and fun. Thank you for very nice food and good rooms. Nice hunt with great trophies.
See you soon again Peter Pettersson og Richards Karlsson, April 2012
Did you know …
that Temba in Zulu means hope?
that we only have 12-14 guests at a time?